Wykeham Association
The Wykeham Association is an umbrella organisation for all those who have been part of the New College School community: old boys and their families, former staff, and any friend of the School. We host a number of events over the course of the year, to which all members of the Wykeham Association are very warmly invited. They are also very welcome to visit the School individually at other times to see it in action. Please email office@newcollegeschool.org to arrange a mutually convenient time.
The NCS Old Boys' Club
All boys leaving the school are invited to become members of the Old Boys' Club and are sent news of former pupils and details of alumni events. We host an annual Wykeham Day when old boys are welcomed back for cricket, a picnic lunch, a concert and Evensong. An annual dinner has been held for more than one hundred years in New College, while the Club and its committee provide active support to the School. The administration of the Old Boys' Club is handled by Miss Jemma Kilkenny (jemma.kilkenny@newcollegeschool.org). There is also a dedicated Facebook group where former pupils can reconnect with old friends: www.facebook.com/groups/NCSOldBoys​​​​​​.
We are very proud of our old boys and their achievements and contributions to their professions and communities. The 'Alumni Profiles' section on this page gives some brief information about NCS alumni across the centuries, from Admiral Nelson's mentor to one of the most important Tudor doctors. Do get in touch with your own news via the form below.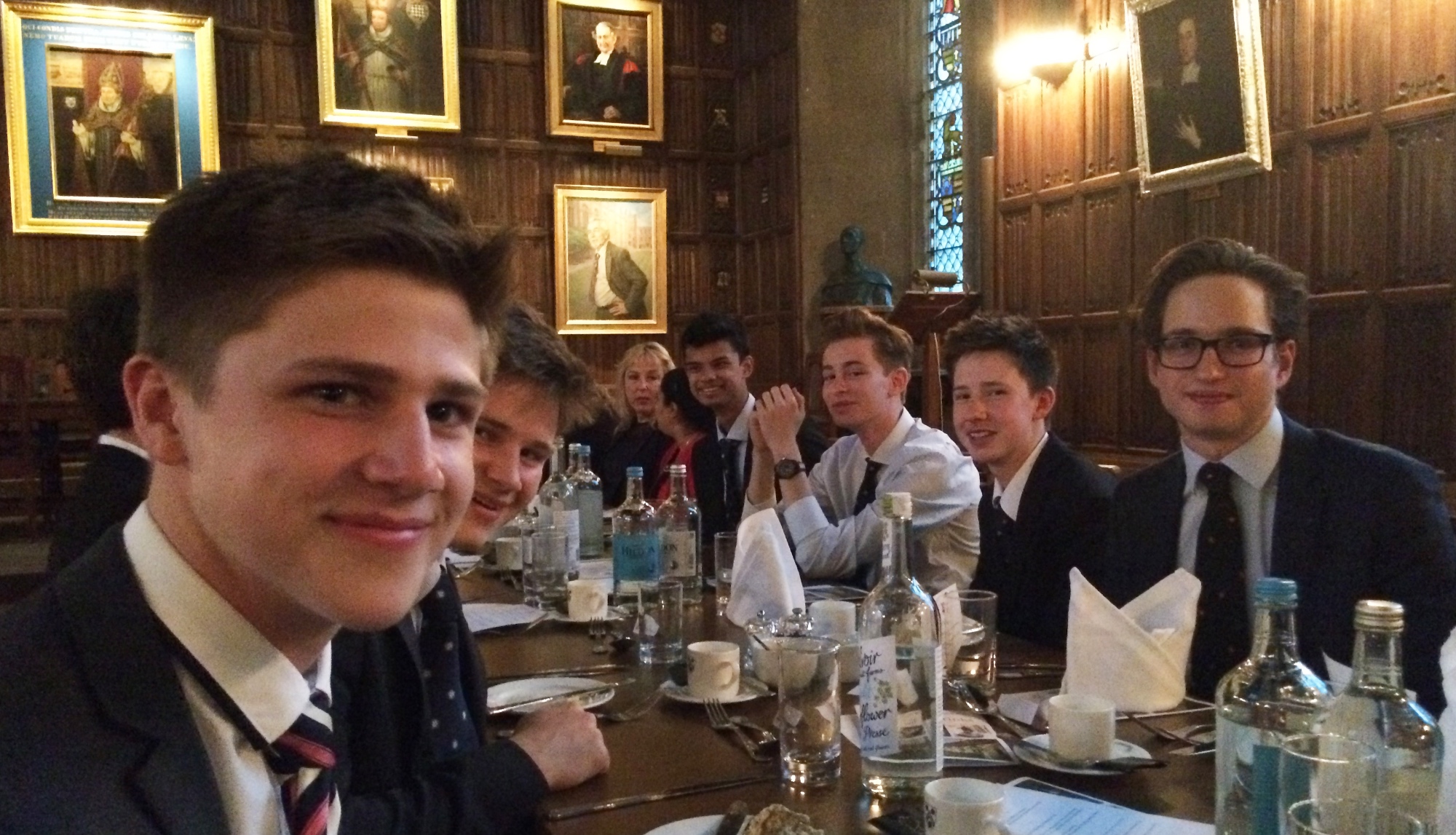 Upcoming Events
Old Boys vs 1st XI Hockey match, Sunday 18th March, 10.00am, Iffley Road Astro- POSTPONED UNTIL 29th APRIL DUE TO SNOW.
As usual, the Old Boys' Hockey promises to be a competitive but spirited match. Leavers from 2016 and 2017 are invited to play; do get in touch with Mr Bishop if you are interested (craig.bishop@newcollegeschool.org) and all Old Boys are welcome to cheer on the teams and for refreshments afterwards.
Old Boys' Dinner, Saturday 12th May, New College
Now in its 109th year, the Old Boys' Dinner is an opportunity for generations of former NCS boys to meet up in the beautiful setting of New College Hall. Invitations to the annual Old Boys' Dinner will be sent out in March to all registered alumni along with the annual newsletter.
Summer Drinks, Wednesday 20th June, New College Cloisters
Former NCS boys over 18 and their parents are very welcome to join us for the annual Summer Drinks celebrations in New College cloisters.
Wykeham Day, Saturday 23rd June 2018
All former NCS boys and their families are welcome to join us on Field for the Old Boys' cricket match, a BBQ, an informal concert, and the school fete.
prominent New College School alumnI
Thomas Allen (1681-1755): clergyman and author
Henry Bright: teacher and author
George Caird: Principal of the Birmingham Conservatoire
Leo Carey: senior editor at The New Yorker
Dara Carroll: recording artist and teacher
John Case (d. 1600): doctor, philosopher, musician, Canon of Salisbury
Eric Clarke: Heather Professor of Music, University of Oxford
George Valentine Cox (1786-1875; Headmaster 1807-57): author and translator
Alec Cranswick: pathfinder bomber pilot who flew the most operational missions in World War II
Michael Criswell: recording artist
William Dobson: poet and author
Alfred Drury: sculptor (sculpted statue of Sir Joshua Reynolds at Burlington House)
Sir (Donald) Keith Falkner (1900-1994): singer and Director of the Royal College of Music
Ian Fountain : pianist
Robin Gibson: Chief Curator of the National Portrait Gallery (1994-2001)
James Gilchrist: tenor
Howard Goodall: EMMY-, BRIT- and BAFTA-award-winning singer, composer, and broadcaster. England's first national ambassador for singing
Sir Richard Goodwin Keats (1757-1834): Admiral, Governor of the Royal Naval Hospital in Greenwich, and mentor to Horatio Nelson and King William IV
James Philip Hewlett: clergyman and author
Orlando Higginbottom: award-winning electronic dance music record producer and DJ ('Totally Enormous Extinct Dinosaurs')
John Holloway: teacher, composer, former Director of Music at Wellington College
Ralph Holmes: violinist
Edward Lucas: author and senior editor at The Economist
David Mitchell: author and comedian
Ian Partridge: tenor
Richard Peers (1685-1739): author
Francis Pott: composer and pianist
Thomas Randall: Mayor of Oxford and the real Mad Hatter!
John Rogers (bap. 1678-1729): clergyman, royal chaplain, and author
Richard Seal: Organist of Salisbury Cathedral
Paul Spicer: organist, producer, conductor, composer, Professor of Choral Conducting at the Royal College of Music
Stainton de B. Taylor: musician and critic
Christopher Tesdale (Headmaster 1617-18): Canon of Wells and member of Westminster Assembly of Divines (1643-9)
Joseph Trapp (1679-1747): clergyman, poet, playwright, first Professor of Poetry at the University of Oxford, translator of complete works of Virgil (1731)
Joseph Warton (1722-1800): headmaster of Winchester, publisher, poet (his Enthusiast (1744) was a precursor to Romanticism) and friend of Samuel Johnson
William Tuckwell (1829-1919) [Master of NCS]: author and 'radical parson'
Francis Wise (1695-1767): author, archaeologist, Radcliffe Librarian
Anthony Wood (1632-1695): antiquarian, historian, and author