Leavers' Trip to Sicily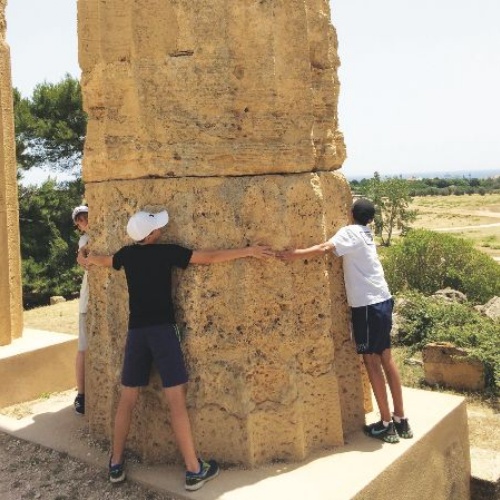 There are few nicer places to spend one's penultimate week at NCS than in Sicily.
The leavers' trip there is now firmly placed in the School's ritual year, with the boys spending five days travelling from the west to east coasts of the island, taking in some breathtaking scenery, visiting stunning heritage sites, sampling the local cuisine, and enjoying their nal few days as a class before heading o to senior schools.
The tour began in Catania, before heading south to the beautiful island of Ortigia and the wonderful world heritage site at Siracusa. From there we wound our way - sometimes quite literally on Sicily's winding roads - along the south coast of the island, starting at Noto and finishing in Agrigento. A few hours in the bus didn't seem so arduous with such amazing views of the Mediterranean, plus the reward of cooling off in the hotel pool on our arrival. From there it was the Valley of the Temples, a short trip to Segesta and Selinunte, and finally a return to urban life in Palermo. Our final couple of days were spent there, looking around the city, marvelling at the basilica in nearby Monreale, and enjoying the pizza and beach in Mondello. The blue sea and sky made it rather difficult to return to the airport and fly home to a slightly less exotic UK!