Science Week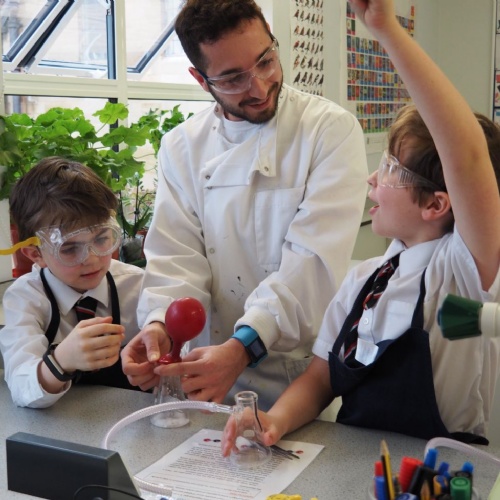 This year's British Science Week was celebrated with much enthusiasm at NCS.
The week began in a dramatic fashion in assembly, with demonstrations from Professor Stuart Conway from Oxford University. We all marvelled at his experiments with liquid nitrogen and a methanol whoosh bottle!
Years 3, 4 and 5 had a workshop run by Science Oxford during which they were able to think about renewable energy and design the most efficient water wheel. Other activities in Science lessons included making the fizziest bath bomb, investigating light using UV sensitive, colour changing beads and extracting DNA from strawberries.
Later in the week we were lucky enough to have Professor Conway back in school with a team from the Oxford Chemistry department. They ran a circus of activities in Science lessons which the boys embraced in typical NCS style. There was huge excitement when investigating polymers (making slime ...), looking at solid carbon dioxide and a variety of other hands-on experiments.
Of course, Pre-Prep boys were also able to get involved thanks to Year 8S's Matty and Thomas who acted as Science ambassadors for the week. They took Artie the leopard gecko to meet Reception and Years 1 and 2, and also helped out demonstrating the release of carbon dioxide from fizzy drinks with an exciting cola rocket experiment in the garden. All in all it was an exciting week and NCS certainly has a number of future Scientists in the making.