Tudor Music Workshop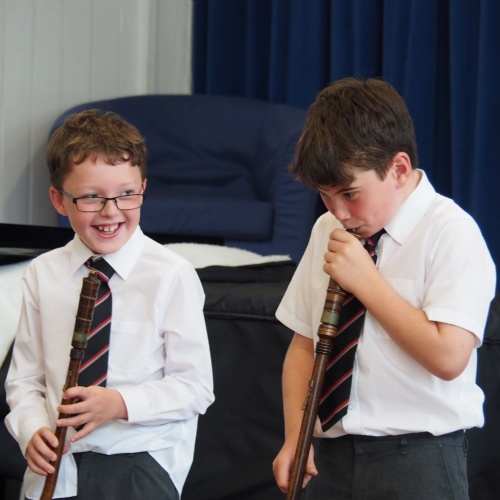 Early in Michaelmas, Sara Stowe visited a Year 4 Music lesson armed with a knee harp, a set of crumhorns, a hurdy-gurdy, a pipe and tabor, and a velvet Tudor costume.
The boys proceeded to regale Ms Stowe with their impressive knowledge of Tudor Music practices. In return, she demonstrated the knee harp and the hurdy-gurdy, and also allowed Benedict, Ben, Albie and Lewie to play the four crumhorns in her collection. The noises the boys managed to produce – akin to a duck's quack – caused hilarity in the class, but Ms Stowe was impressed with their ability to draw any sound at all from the crumhorns, as they are notoriously difficult to play. She then taught the boys to give a rousing rendition of the song, Great Tom's Cast – about the bell in Tom Tower, Christ Church – and the workshop was rounded off by a class performance of a Bear Dance while Ms Stowe accompanied on the pipe and tabor. It was a privilege for the boys to be in such close proximity to these historic instruments and the singing, dancing and playing greatly enriched their study of Tudor Music.