Julius Caesar @ the RSC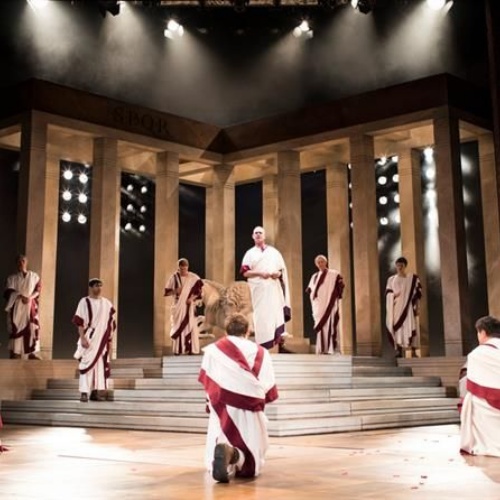 Boys from Year 8/8S visited Stratford to watch the Royal Shakespeare Company's Julius Caesar
After a shortish minibus journey to the Royal Shakespeare Company in Stratford, we arrived at the birthplace of the greatest playwright of all time to watch a performance of Julius Caesar. First, though, we were lucky enough to have a picturesque picnic beside the River Avon before taking a short walk to the world-renowned theatre. After taking a look around and being given a tour by NRG, we entered the famous playhouse where so many distinguished actors have performed.
Filled with moments of tragedy, action and comedy, Julius Caesar was among the best plays I have ever seen. The parts of Caesar and Brutus were inevitably enthralling, but Marc Antony in particular had the most significant effect as his speech completely questioned the minds of the Roman citizens with the power of rhetoric, saying:
When that the poor have cried, Caesar hath wept:
Ambition should be made of sterner stuff:
Yet Brutus says he was ambitious:
And Brutus is an honourable man.
We were drawn in until the very last moment, awe-inspired by Shakespeare's writing. Walking out of the theatre, there was a mixture of emotions, feeling overwhelmed but satisfied, and as we began our journey home, we reflected on a memory that we will possess for a long time. SK