Reception Creative Writing Book Club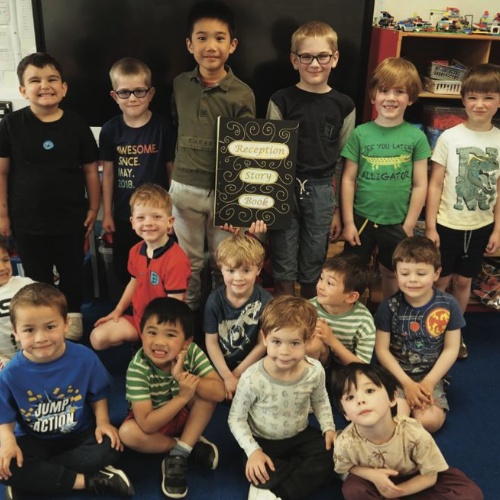 It all started in the media room on a cold day, thinking about what to do. Then suddenly we came up with this amazing idea. We decided to try to extend the creativity of the Reception boys to a new level in the form of story writing.
Every Friday, in Book Club, we try to give them the best possible time. Book Club is mostly for fun but we also try to nurture them so they may thrive. As the year goes on, we are making a big book of all their stories and pictures.
At the start of each session, we give them pens and pencils and paper. They draw pictures (sometimes with flaps!) and we like helping them. Then, after they start saying "I've finished!" one of us asks questions about their pictures, and they dictate their story while Miss Parsons writes it down quickly. Then we write it up neatly, cut it out and stick it in the Reception Story Book. You can come and read it in the Reception classroom!
The Reception boys have already told us they love it. Also, lots of Year 3s want to be extra teachers in our Book Club, which is a great sign! The thing that inspired us most is that Alexander's brother (Oliver) is in Reception, so we thought it would be fun to see each other in school. At some point we will hand over to another year group, but for now the Reception boys are in our care. Alexander F and Luke S (Year 3)