Year 8 in Sicily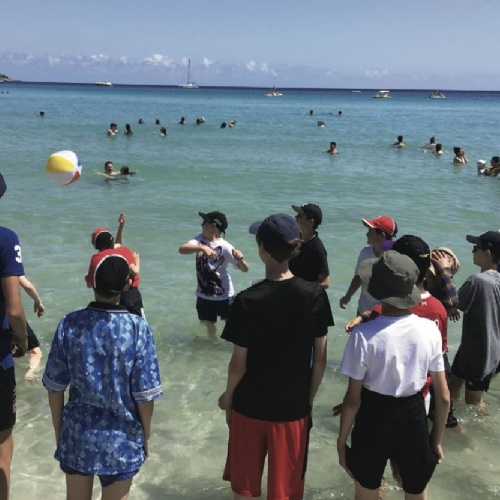 It was wonderful to be able to revive our Year 8 leavers' trip to Sicily this year – the first time since Covid restrictions kept us much closer to home.
We were still able to visit our old favourites, even if (due to post-Covid flight changes) our itinerary was in reverse from previous years. We flew, very early, into Palermo and our reward for such an early start was pizza at a restaurant on Mondello Beach. The sandy beach and clear blue waters were a world away from Savile Road! We then managed to squeeze in a visit to the fantastic gold-laden church in Monreale, before settling in at our Palermo hotel and getting an early night. Our second day was also spent in Palermo, visiting the Palatine Chapel, GAM Modern Art Gallery and the Palazzo Cinese, before an evening spent running around at the Foro Italico.
We departed Palermo early on day three, taking in the Greek amphitheatre at Segesta and the ruins of Selinunte, before going for a swim at the hotel in Agrigento. Agrigento's Valley of the Temples was the main focus for the next day, as we enjoyed a guided tour of the archaeological park. A long journey across the island afforded us all an opportunity for a welcome nap, before arriving in the Baroque (and slightly bonkers) splendour of Noto. A short walk and ice cream later, and we were ready for the short trip to Siracusa and, especially, an evening's walk through the beautiful island of Ortigia. Our final day, before heading back to the UK, was spent at Siracusa archaeological park – a fitting end to this classics and history trip, the last that our Year 8s took together before heading off to their senior schools.