International Women's Day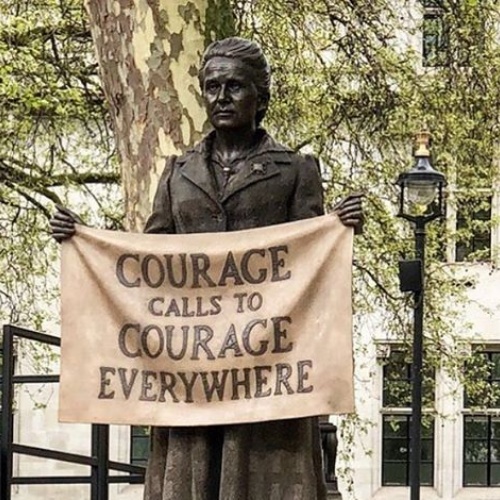 To mark International Women's Day, Dinti Batstone, Fawcett Society trustee, addressed the whole school in chapel. These were her powerful words:
Thanks for inviting me back – it's lovely to be reminded of my son's happy years at New College School.
When I last spoke here, in 2018, I was asked to reflect on the newly unveiled statue of Millicent Fawcett in Parliament Square – the first and still the only – woman alongside 11 men. Today, I'm here the day after International Women's Day, and a year after the murder of Sarah Everard by a serving police officer, and also a year after 'Everyone's Invited' shone a light into dark places at senior schools in Oxford and beyond, and even some Prep schools. Though happily not this one.
So this morning, as well as looking back at what we can learn from Millicent Fawcett, I'd like you, the boys of New College School, to look forward to the next stage of your lives and think about the kind of men you want to be.
Let's start with the history. Back in 2018, I identified 3 things to learn from Millicent Fawcett's life:
1: You're never too young - or indeed too old - to make a difference.
Millicent started campaigning for women's votes as a teenager in 1866, collecting signatures for a petition led by Liberal philosopher and Member of Parliament John Stuart Mill. 52 very long years later, a minority of women - including Millicent - finally gained the right to vote. But Millicent didn't stop campaigning until ALL women got the vote on EQUAL terms to men. That took another decade, by which time she was 81 years old.
2: Work with people you don't agree with
As a law-abiding suffragist, Millicent profoundly disagreed with law-breaking suffragettes… but she nevertheless acknowledged their huge sacrifices. The words on her statue in Parliament Square, "Courage Calls to Courage Everywhere", come from a speech she made after the death of suffragette Emily Wilding Davison, an alumna of St Hugh's College Oxford.
3: Look for allies, not enemies.
Millicent recognised that "What draws men and women together is stronger than the brutality and tyranny which drive them apart". Men were an essential part of Millicent's strategy for securing votes for women. And in 1928, when women finally gained the vote on EQUAL terms to men, Millicent Fawcett laid a wreath at the statue of John Stuart Mill.
So why does this history matter to boys at New College School today? Well you're boys now, but you'll soon be men. And you have the power to choose what kind of men you want to be. You can be men like John Stuart Mill. Men like London Mayor Sadiq Khan and journalist Danny Finkelstein, both of whom used their power and influence to promote the campaign for a statue of Millicent Fawcett in Parliament Square. Men who do more than just pay lip service to equality. Men who think critically about the social structures we've inherited from previous generations. Men who challenge - not perpetuate - "locker room banter". Men who call out bad behaviour.
Because every single one of us can make a difference through our everyday choices and actions. We can passively reinforce existing gender norms and stereotypes, or we can actively challenge them by educating ourselves, stepping out of our comfort zones and choosing to do things differently.
I have two children, an older boy and a younger girl. Back in Year 7 at NCS my son started taking the public bus to meet friends in the centre of town. No one batted an eyelid. All his friends used public buses. Two years later, when I gave my daughter the same freedom her brother had enjoyed, I found myself an outlier among parents of Year 7 girls. What does this say about our society? And what message does it give to our girls at a formative age? If a Year 7 girl can't take a public bus, then what else can't she do?
Of course I share the parental instinct to protect, and I resent the fact that my daughter has had to learn from a young age how to deal with male harassment, but is clipping her wings really the right response to other people's bad behaviour? I don't think so. I think it's up to ALL of us to ensure that girls as well as boys, women as well as men, can freely embrace all that life has to offer, without fear or favour.
Not contributing to the problem is a decent start, but you can aspire to so much more than that. You can be part of the solution. Start with little things. Read Malala Yusafzai's autobiography. Watch Emma Watson's 'He for She' UN speech on YouTube. Understand that it's the culture we ALL create and recreate in our everyday lives that delivers lived equality.
Knowing that I was coming here, I asked a Sixth Form girl what 5 things she and her contemporaries would want boys your age to know.
Here's an age-appropriate summary of the reply:
1 Stereotypes are made to be broken, for boys as much as for girls.
2 So it follows that feminism is for boys as much as for girls… it's NOT about women hating men or wanting to be better than men.
3 It's about understanding that we live in a society shaped by gender norms and stereotypes that shackle men as well as women, albeit to a different extent and in different ways.
4 Beware what you see online – it will shape your attitude to girls.
5 And finally – men are allowed to show their emotions. Men who cry are still men.
Very soon, as teenagers and young men, you will find yourselves in situations where you have choices about what to say and how to behave towards girls and women. I have no doubt that you will feel pressure to use certain language, behave in certain ways, and conform to certain stereotypes. You will see others in your peer group behaving inappropriately and you will have choices around what, if anything, to do about it.
I hope – and, in the nicest possible way, expect – that your education here, at this very enlightened school, will stand you in good stead when you face those choices. It won't always be easy for you to do the right thing, but remember:
Courage Calls To Courage Everywhere.