School Orchestra ​​​​​​​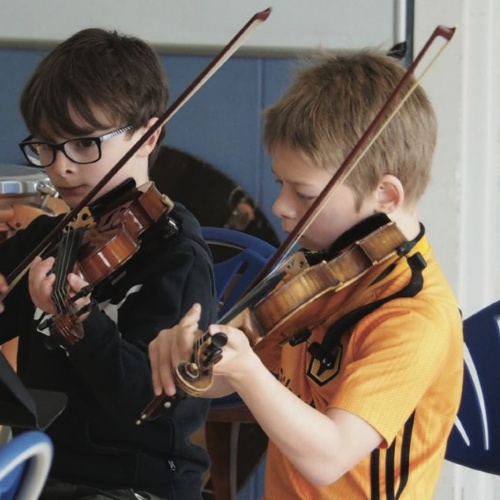 Saturday Music School has continued throughout the 2020-21 academic year, albeit in a much-altered form in adherence to government restrictions.
The requirement to remain within 'bubbles' created some eclectic ensembles. Pupils from Year 8 formed a string nonet, performing a Minuet and Trio by Haydn, and the Scherzo from Beethoven's String Quartet no.1. Meanwhile, Year 7 pupils worked hard to learn Vivaldi's Concerto for Two Clarinets and Strings. Pupils from Year 6 learnt Ethel Smythe's Two Interlinked French Folk Melodies, and the Year 5 boys took on the challenges of Corelli's Christmas Concerto.
Music School resumed at the end of Hilary, following the national lockdown. The long-awaited return to the school site also heralded the return of the full school orchestra. Whereas we would normally rehearse within instrument families (strings, brass, woodwind, and percussion), this time we had to rehearse within our year group bubbles, which meant pupils had to be even more confident in playing their individual part. Mr Neal arranged Brahms's Hungarian Dance no.5 in G minor specially for us to play. After several weeks of rehearsing separately, the whole orchestra came together in the sports hall, spread out as much as possible, and with the newly-installed bifold doors wide open. It was cold, but we were so thrilled to be playing together once again! In June, Mr Neal took the whole orchestra over to New College Chapel to film and record our performance!
We are really looking forward to next Michaelmas term, when we will play excerpts from Tchaikovsky's ballet Swan Lake. And we can't wait to perform in Britten's opera Noye's Fludde at the Sheldonian Theatre next May!