Music Scholars' Masterclass and Concert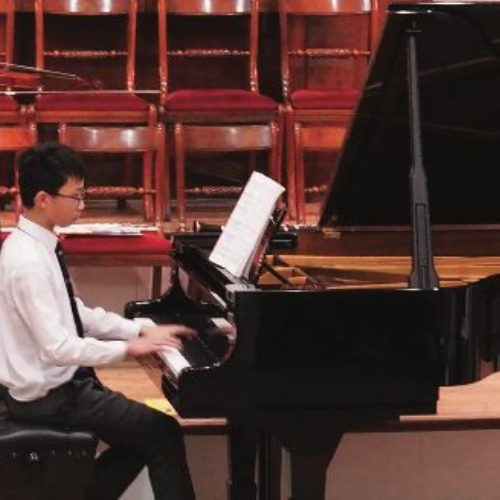 On Monday 14 January, Edward, Lyndon, Sammy, Jamie, and Reuben performed in the annual Music Scholars' Masterclass.
For the second year running, the masterclass was given by Mr Charles Sewart, who has enjoyed a long and distinguished career as a violinist; he is currently Head of Strings at The Purcell School.
Reuben opened the masterclass with a stirring performance of the rst movement from Bernhard Romberg's Cello Sonata in E minor (Op.38) and received excellent advice on physical gesture and movement in performance. Edward followed with a delightful and assured rendition of François-Joseph Gossec'sTambourin—a 'classic' of the flute repertory. By contrast, Sammy played Schubert's famous song- without-words, Ständchen (D.957) and received top tips on how to manipulate the Cello bow to control tone and phrasing. Jamie followed with a very moving performance of the slow movement from Mozart's ever-popular Clarinet Quintet in A major (K.581). Finally, Lyndon brought the masterclass to a brilliant conclusion with the rst movement from Pietro Nardini's Violin Concerto in E minor, and received advice on how to control the energy and atmosphere during a performance.
The following Friday, the boys reconvened at the prestigious Holywell Music Room to give the annual Music Scholars' Concert. Situated just round the corner from the school on Holywell Street, the HMR is the oldest custom-built concert hall in Europe; it boasts an exceptionally fine acoustic for solo and chamber concerts. In addition to the piece they had played at the masterclass, the boys performed on their second and third instruments. Jamie sang I attempt from love's sickness to Fly from Purcell's opera The Indian Queen, and at the piano gave a finely-controlled performance of Takemitsu's Clouds. Reuben gave a well-judged and beautifully phrased rendition of Bach's Prelude in D minor (BWV 926). Edward played a piano arrangement of Mendelssohn's famous O for the wings of a dove, and gave a remarkable performance of the aria Rend'il sereno al ciglio from Handel's opera Sosarme. Sammy gave a beautifully poised and lyrical performance of Debussy's The Little Shepherd. Lyndon closed the concert with a dazzling performance of Chopin's famous 'Black Keys' étude (Op.10 no.6).
All five boys performed at their peak and with musical sensitivity beyond their years. And it was wonderful to see how quickly and how well they responded to Mr Sewart's superb coaching. These much-anticipated annual events were testaments to the boys' hard work and perseverance over many years, and were much enjoyed by the audiences and performers alike. Well done, boys, and congratulations on some truly outstanding performances! We are already looking forward to hearing next year's music scholars.