Dealing with Dyscalculia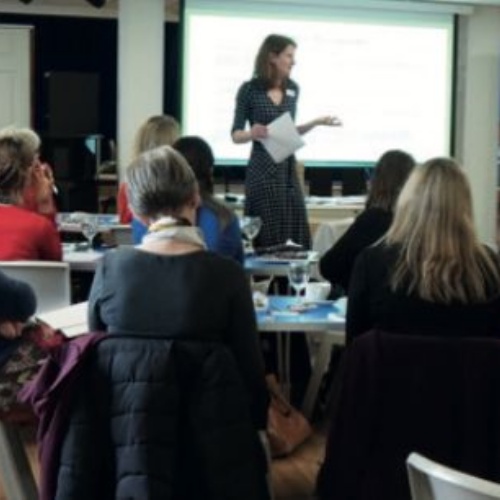 Over forty educators from the Oxford area gathered at New College School in March to learn more about dyscalculia and how to deliver a structured, multi-sensory, cumulative programme to bring fun to learning Maths.
Teacher: Let's count... 0.1, 0.2, 0.3, 0.4...
Pupil: ...0.5, 0.6, 0.7, 0.8, 0.9 (long pause)... 2?
Approximately 5% of the population are impacted by underdeveloped mathematical skills, in which seemingly easy tasks are impossible and strategy amounts to looking down a black hole. Concepts that for most would be absorbed through attrition, the dyscalculic requires explicit instruction and concrete representations ... several times over. Intelligence is not the question here; often it comes in spades. Creativity too rarely suffers. Dyscalculia is distinguished by severe diffculty with number sense, subitising (identifying number in a set), numerical magnitude comparison (value) and ordering.
Research on causes is still in its infancy but the most convincing theory so far is impairment of the intraparietal sulcus (parietal lobe), linked with learning sequences and measuring totals in a set. It is also the control desk for tracking number of items in the visual short term memory and plays a part in executive function.
During our session at NCS, Cat Eadle of The Little Maths Room, led the afternoon with expert tips on assessment and intervention which was then followed by Oxford University's Ann Dowker on the latest research into Maths interventions.
At New College School, if there are signs of dyscalculia in a pupil it is recommended an assessment is carried out by an educational psychologist with an interest in maths diffculties. Children are offered a diff erentiated maths programme in class lessons and weekly 1:1 tutoring sessions.
Signs of dyscalculia:
A person with dyscalculia/mathematical learning difficulties may:
· Have difficulty when counting backwards.
· Have a poor sense of number and estimation.
· Have difficulty in remembering 'basic' facts, despite many hours of practice/rote learning.
· Have no strategies to compensate for lack of recall, other than to use counting.
· Have difficulty understanding place value and the role of zero in the Arabic/Hindu number system
· Have no sense of whether any answers that are obtained are right or nearly right.
· Be slower to perform calculations.
· Forget mathematical procedures – arithmetic operations are usually very poorly carried out
· Avoid tasks that are perceived as difficult
· Have weak mental arithmetic skills
· Have high levels of mathematics anxiety