Folie de Mort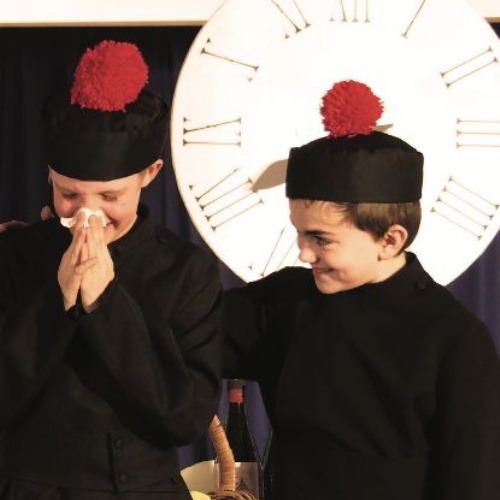 The first lines from the finale song of this year's French Play Folie de Mort summarise perfectly the energy with which Years 5 and Year 6 participated in the play.
Hourra, Hourra la vie est surprenante !
Hourra, Hourra, on rigole et on chante !
(Hurray, hurray, life is amazing!
Hurray, hurray, we laugh and we sing!)
The boys simply were amazing, in every rehearsal and both productions. They took our breath away with their perfect French accents, their witty acting and their lively singing. It is quite remarkable to think that such young boys are able to memorise lines in French and deliver them on stage as if it were their own language. Throughout our weekly rehearsals, the boys always acted on the directors' advice and adjusted their acting as well as coming up with their own creative ideas. What was also exciting was the fact that the play, its plot and its script sometimes made their way into the classroom and the French lessons, and the characters almost became real. A bit of madness, a lot of fun, but mostly an enormous amount of talent from all the boys!