HMS Pinafore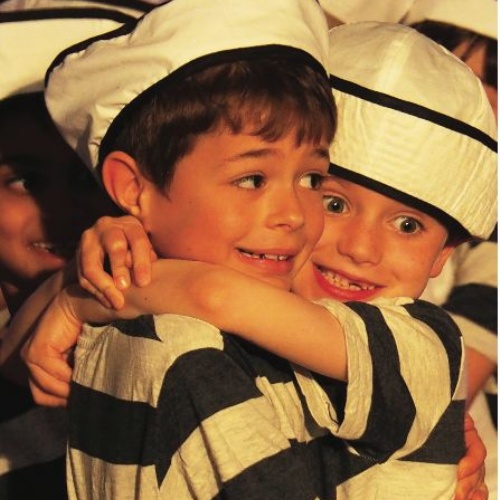 What a spectacular way to bring the year to a close!
HMS Pinafore came in to Port NCS, with some hilarious performances and rousing choruses. From the self-assuredness of Edward's Sir Joseph Porter, to the fluttering eyelashes of Year 3 dressed as Sir Joseph's sisters and cousins and aunts, the audience was charmed and amused equal measure from start to finish. It was a star-studded show, with Finley as Captain Corcoran ('If you please!') Josh as romantic hero Ralph Raskstraw (he loved not wisely but too well!), Jack as Josephine ('Oh my beating heart!'), Rishaan as Dick Dead- Eye (positively primeval!) and Finn as Buttercup. The sailors, played by Dan , Tolly , Ashwin, Isaac and Alexander, jollied the love-struck Ralph along, while Indy's Daisy provided support to the hapless Buttercup, Max's Sir Geoffrey 'dazzled' as SirJoseph's aide and Didrik's Cecil kept poor Ralph going in his distress! George's Cousin Hebe also wooed the audience with her ladylike adoration of Sir Joseph! Behind the scenes, Benji's stage management organised everyone, with help from Max. In the end, after 45 minutes of lovestruck confusion, infants being swapped at birth, and much debate about the merits of inner beauty, the key character pairs were all united and much 'grog' served in celebration.
While the boys walked the boards, a few of the grown-ups helped a bit too: thanks to SLJ for the musical direction and hard work on all the singing and choruses, MW for the direction, set and lighting, VH for the costumes, co-direction and backstage organising, JK for the programme and posters, PM and DB for building the ship, Dr Wilson for assorted props from giant rope to tankards and mops, EH for lots of dresses and bonnets, and CSR and BM for further help backstage. The whole production was tremendous fun: the boys did a wonderful job and had a great time. It was a truly wonderful send-off for SLJ:we can't quite imagine how we'll manage without her next year!