Malvern Hills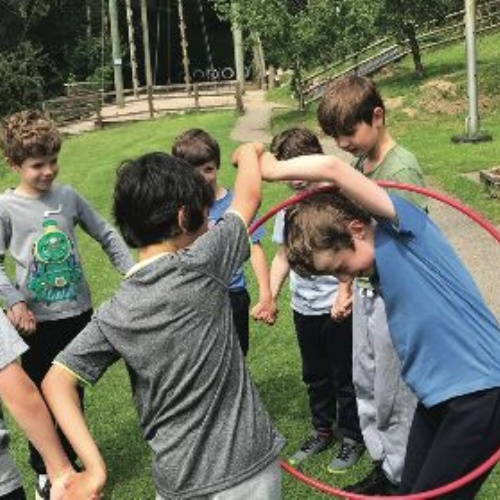 On 24th June, Year 4 departed Oxford for the leafy hills of Malvern.
On arrival we were greeted by Charlotte, our leader for our stay, who talked us through the routines and what to expect of the trip. We settled into our common room, which was for New College School use exclusively, and which came complete with table football, giant Jenga, giant Connect 4 and a bowling alley! Needless to say, the boys were somewhat excited.
Next up, on to the dorms and challenge number one: the making of beds. The boys needed to put their pillow case and duvet cover on themselves, a task which was met with enthusiasm and varying levels of success! The afternoon was spent on the low ropes and problem-solving activities. Dinner that evening was followed by a hill walk. Everyone was suitably tired by the time we came back down the hill for showers, PJs, hot chocolate and story time. Finally, bedtime: the boys were out for the count almost immediately! On day two the boys tried a range of exciting activities: building shelters and starting fires with flint and steel in bush craft, and throwing themselves off a very high platform to go down the zipwire. Others climbed the quad pole (a telegraph pole with a small platform on top, the challenge being to end up with 4 people perched on top) and brushed up on their Robin Hood skills with archery.
The evening was spent orienteering in small groups around the site. The final morning was spent trying further activities including the high bridges! Finally it was time to say a fond goodbye to our instructors and say thank you for looking after us so well. It was an amazing adventure. The boys were excellent company throughout and very brave. Three very impressed, but somewhat tired teachers headed for home, proud to be part of NCS. Well done Year 4!